Exposition lingouf à Port-en-bessin :
du 3 au 24 décembre 2021 !
Posé sur une colline de sa Normandie natale, Vincent Ingouf alias lingouf, déploie depuis plus de 20 ans un art protéiforme. Tour à tour illustrations, bd, peintures, sculptures, vidéos, jeux, et musiques fleurissent sur son chemin créatif.
Ultra-prolifique, il accompagne ses créations visuelles d'une musique étrange aux milles couleurs se jouant des frontières entre les styles. Elle le conduisit à se produire à travers la France et l'Europe, de petit bars en galerie d'art, de free-party en festivals, il publia notamment plusieurs album sur le label Ant-zen, collectif d'art visuel et auditif en Allemagne.
En partageant son regard et sa sensibilité, lingouf nous convie à un voyage à la frontière du visible, il ouvre une porte sur des mondes oniriques, inconscients, éthériques. A coups de crayon et de pinceau, il nous fait naviguer des sombres profondeurs aux dimensions les plus lumineuses, modulant le flot des perceptions entre tangible et subtil dans un océan de magie sur-réaliste.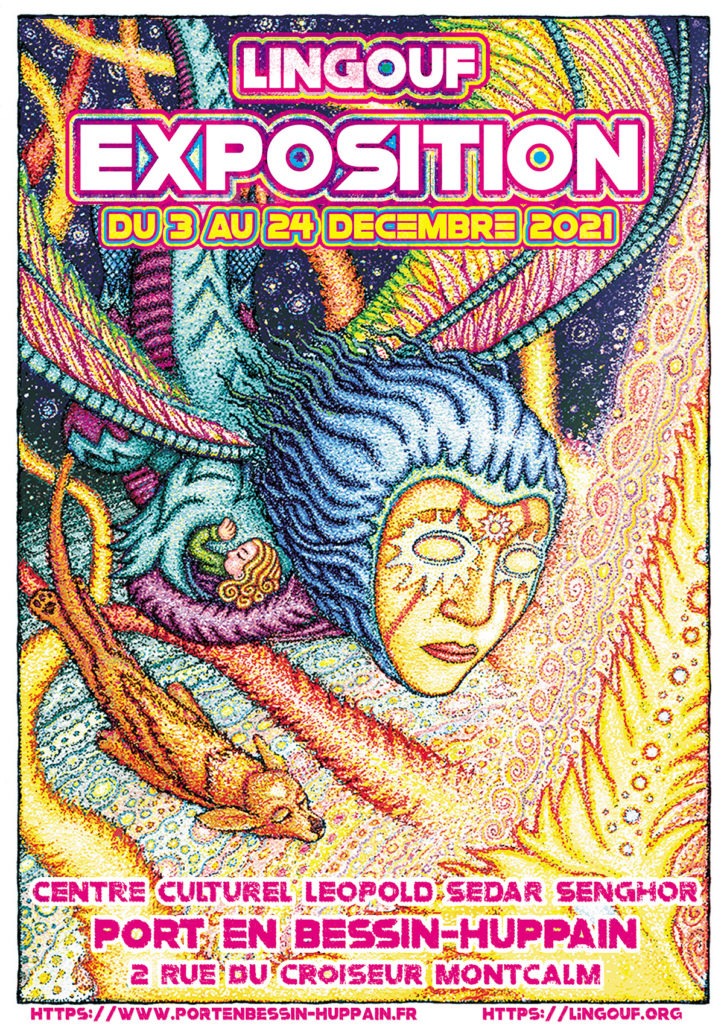 Du lundi au samedi 10h/12h30 14h/18h. le dimanche : 14h/18h
permanence de l'artiste les week-ends
Lingouf Exhibits at Port en Bessin-Huppain
From 3 to 24 december 2021
2 Rue du Croiseur Montcalm
« Vincent Ingouf aka Lingouf, who has been working on a hill in his native Normandy for more than 20 years, has been deploying a protean art form. – By turns illustrations, comics, paintings, sculptures, videos, games, and music bloom on his creative path. – With pencil and brush strokes, he navigates us from the dark depths to the brightest dimensions, modulating the flow of perceptions between tangible and subtle in an ocean of surreal magic. – Ultra-prolific, he accompanies his visual creations with strange music, playing the boundaries between styles. The latter leads him to perform throughout France and Europe, from small bars to art galleries, from free-parties to festivals. In particular, several albums will be released on the Ant-zen label, a visual and auditory art collective, in Germany. – By sharing his gaze and his sensitivity, Lingouf invites us on a journey to the border of the visible, he opens a door to dreamlike, unconscious, ethereal worlds.  » – artist's permanence on Saturdays and Sundays during the afternoon hours. – Closed on Sunday morning.